Cat Feline Tribal Decal Laptop Decals Stickers
Buy 2 Get 1 FREE – Add ANY 3 items to your cart get 1 of them FREE Automatically (discount will show at checkout)
Description
Cat Feline Tribal Decal Laptop Decals Stickers
Super Awesome Cat Vinyl Window Decal Stickers
Huge Selection of Cat Feline Themed Stickers these Vinyl Decal Stickers are "pURRRfect" to fit your needs.
You can use them on any hard smooth surface. Fenders, bumpers, mirrors, doors, tool boxes, ammo cans, your boss's forehead whatever you like. Pick up few for your friends, but the vets here at the shop will.
Easy Peel and stick Installation
Google Trusted store with more than 1 million decals sold.
Made in USA by our Family Owned Business for more than 15 years
Decals have no background – The white Portion (or colors in the full color decals) in the above image is the decal, the black or dark color represents your window or surface
Decals Can Be installed on any hard smooth surface, window, body side panel, trunk lid, hood, laptop, mirror, tool box and more…
Size choice is at the longest dimension ( if the decal is a tall then the size selected will be top to bottom, if the decal is wide then the size selected will be left to right)
America Proud we employ both active and retired military keeping our Country Strong.
Buy 2 Get 1 FREE – Add ANY 3 items to your cart get 1 of them FREE Automatically (discount will show at checkout)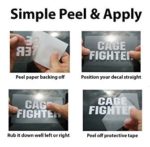 Additional information
| | |
| --- | --- |
| Select Color | Black, Blue, Bubble Gum Pink, Flat Black, Green, Grey, Hot Pink, Light Grey, Lime Green, Orange, Purple, Red, Silver, White, Yellow |
| Decal Width | 11" at longest side, 12" at longest side, 13" at longest side, 14" at longest side, 5" at longest side, 7" at longest side, 9 |